Een half jaar na mijn bezoek aan Lungi en haar familie in Khayelitsha, (zie kader).
Lungi neemt ons mee op pad.
"Now I am the boss" zegt ze fier met haar hoofd rechtop en een knipoog naar mij. We slenteren door de hitte en lopen de ruim drie kwartier durende ontmoetingstour door Khayelitsha (een wijk van Kaapstad, Zuid Afrika): the walking tour through Makhaze.
Ongemerkt lopen we een beetje heupwiegend, Lungi voorop, op de aanstekelijk swingende muziek die uit één van de shacks klinkt. Het blijkt een kerk.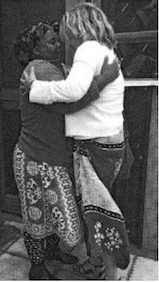 We gaan naar binnen en worden overvallen.
Overvallen door de muziek, het voelbare welkom, de saamhorigheid, de beleving, het geloof. Een oergevoel raakt diep en huilen is de onverklaarbaar onmiddellijke reactie. Ik kijk om me heen en bij werkelijk iedereen van de Nederlandse groep stromen tranen over de wangen. We zijn meer dan ontroerd, meer dan verbaasd. Wat gebeurt hier? Dat in deze kerk, een eenvoudige hut van vijf bij vijf, zelfs de hoogstopgeleide rationele nuchtere Nederlanders staan te huilen….. Of zijn we júíst die zogenaamde hoogopgeleide, nuchtere rationele Nederlanders en wordt hier iets in ons aangeboord wat we met zijn allen zijn kwijtgeraakt of wat onderontwikkeld is?
'Ik wil het niet verklaren, voor je het weet verklaar je elkaar de oorlog," zingt Stef Bos.
De aanwezigen bidden, ze dansen en ze heten ons welkom. We worden naar voren gehaald en gevraagd of we allemaal willen vertellen wie we zijn, waar we vandaan komen. Ze geven mij het woord en ik zeg: "Molwenig, enkosi kakhulu, (dag allemaal, enorm bedankt dat we hier mogen zijn)". En dan val ik stil, weet niet wat ik verder zeggen moet.
"Ik zie de rode aarde en ik voel zwart bloed….De muziek en tekst van Stef Bos' nummer 'Een zondag in Soweto' zal voor altijd in mijn geheugen gegrift staan, want elke zin, elk woord en elke toon is letterlijk wat ik hier zie en voel. Het is alleen geen zondag in Soweto, maar een zondag in Khayelitha.
Khayelitsha is een township bij Kaapstad,Zuid-Afrika.
Khayelitsha betekent 'nieuw thuis' in het Xhosa. De Kaapse
Vlakte ('Cape Flats') is een gebied ten oosten van de stad. Khaye- litsha strekt zich uit tot aan de kust en is omgeven door zandduinen. Er zijn er die geloven dat dit bewust gedaan is door de apartheids- planners om politieke onlusten te onderdrukken. Volgens dit model heeft Khayelitsha slechts drie uitgangen en was dus eenvoudig af te sluiten in tijden van onlusten.
Khayelitsha is de grootste township van de Kaapse Vlakte en strekt zich uit langs de snelweg N2. Er wonen ongeveer 400.000 mensen[1]. De werkloosheid wordt geschat op 70%. Degenen die wel werk hebben vertrekken 's ochtends vroeg massaal vanaf het trein- station in Khayalitsha met de trein naar Kaapstad. De situatie in Khayelitsha is de laatste jaren verbeterd. Er zijn vele bouwprojecten waarin shacks (woninkjes van golfplaat en hout) worden vervangen door stenen woningen. Tevens wordt er hard gewerkt aan stromend water en de elektriciteitsvoorziening.