Ingezonden door Peter van Leeuwen
QCEA is het team in Brussel, dat Quaker kernwaarden bevordert op Europees niveau. Het doet dit namens Nederlandse Vrienden en Quakers van een tiental andere Europese landen, inclusief Noorwegen en Zwitserland.
Iedereen die de media volgt kan merken dat Europa en de EU geleidelijk veranderen. Vooral de oorlog in Oekraïne brengt een verandering teweeg die tot onrust leidt in Quaker geledingen. Is de EU als "vredesproject" in gevaar?
Tien jaar geleden nog, in 2012, werd de Nobelprijs voor de Vrede toegekend aan de Europese Unie (EU) die "meer dan zes decennia heeft bijgedragen aan de bevordering van vrede en verzoening, democratie en mensenrechten in Europa." Gaan we nu de verkeerde kant op, door geopolitieke ontwikkelingen, met name de oorlog in Oekraïne?
Toen we op 15 mei, na onze meeting in Den Haag, gedachten en gevoelens uitwisselden, was wel duidelijk hoe onmachtig we zijn om grote politieke veranderingen te beïnvloeden. Het radicale vredesgetuigenis van de Quakers en de radicale leringen van Jezus, zo'n tweeduizend jaren geleden, gelden ook nu en voor ons! Maar hoe verbinden we dat met de politieke werkelijkheid waarin we ons bevinden?
Een half jaar geleden, dus vóór de oorlog in Oekraïne schreef Jeremy Lester (schrijver van QCEA): "De Europese Unie lijkt voor altijd op een kruispunt te staan, onzeker of ze moet concurreren als een militaire macht of dat ze een vredesmodel moet zijn door een uniek model van het combineren van nationaal en internationaal bestuur".
Inmiddels vinden grootschalige wapenleveranties aan Oekraïne plaats. De EU oefent economische macht uit met haar sancties. De publieke opinie in Finland en Zweden voelen zich bedreigd door Poetin en de twee landen gaan NAVO lid worden. Het is oorlog.
QCEA is van plan een studytour te organiseren van 14 – 17 november. Een prachtige gelegenheid om je met Vrienden en belangstellenden uit andere Europese landen je bezig te houden over ons Quaker zijn in Europa, in deze veranderende werkelijkheid.

Omdat ik al twee maal heb meegedaan, zal ik mij nu niet opgeven, maar ik kan getuigen dat een QCEA study tour een heel waardevolle investering is! Ik kan iedereen de studytour van harte aanbevelen Het is dé manier om de Europese instellingen te leren kennen. Dé manier om het werk van Vrienden in Europa te leren kennen. En dé manier om diepgaand met een belangrijk thema bezig te zijn: "Europa op een kruispunt".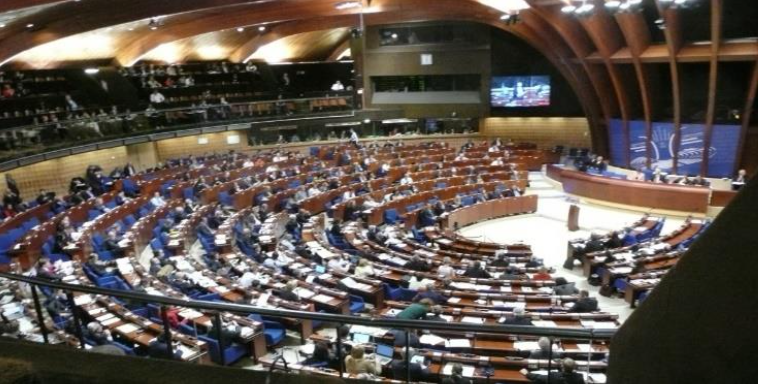 Hoe ver verandert de EU inmiddels van een vredesproject in iets anders. We zien militarisatie, een interventiemacht, de gevolgen voor vrede, voor klimaatverandering, voor migratie, voor asielprocedures, voor mensenrechten.
QCEA heeft al meer dan veertig jaar een Nederlandse steungroep 'Vrienden voor Brussel', officieel ook met VVQREA aangeduid. Bijna de helft van de Nederlandse Vrienden en alle maandvergaderingen zijn daar lid van. Nieuwe leden zijn meer dan welkom! We hadden op 15 mei onze jaarlijkse ledenvergadering. We hebben de gelegenheid van de ledenvergadering aangegrepen om richting QCEA vast een paar wensen te formuleren:
Naar de mening van VvQREA zijn de volgende actiepunten van belang voor QCEA:
Stille diplomatie tussen de NAVO landen en Rusland.
Het onderhouden van contact met Quakervrienden in Moskou en Sint Petersburg, zowel als met pacifisten in de Oekraïne
Vorm geven aan een voor ons belangrijke prioriteit: QCEA kan samen met Stop Fuelling War en ENAAT(European Network Against Arms Trade) de macht en werking van het militair industrieel complex bij escalatie van conflicten onder bredere aandacht brengen. Nog een laatste poging om je enthousiast te maken voor zo'n studytour: In 2014 ging de studytour ook nog twee dagen naar Straatsburg. Het Europa van 47 landen en 800 miljoen mensen, waarvoor het Europese hof voor de rechten van de mens is opgericht en de Raad van Europa.
Bij de parlementaire assemblee waren er zowel pro Russische als pro Oekraïense demonstraties. De inval in de Krim was enkele maanden eerder gebeurd.
Wij probeerden een Oekraïense (uit onze groep) in gesprek te brengen met een Rusland supporter. Heel moeizaam maar het lukte.
Later zaten we op de publieke tribune van de parlementaire assemblee, waar de Russische delegatie het zwaar te verduren kreeg.
Voor ons erg leerzaam, we hebben er achteraf goed over doorgesproken. De Oekraïense deelneemster aan de studytour had veel moeite met de passiviteit van ons 'West Europeanen'. Ze had meer steun voor Oekraïne verwacht. Had ze achteraf gezien, gelijk?