Door Mieke van Opheusden
Laatst belde ik Frits ter Kuile. Frits woont in het Jeannette Noëlhuis, en organiseert een bezoek aan het actiekamp bij een bruinkoolmijn in Duitsland. Ik ben nog niet eerder met Frits op pad geweest, dus een huisgenoot gaf mij zijn nummer en ik bel hem op. 'Ha, Mieke, ik miste je stukje in de Vriendenkring!' riep hij enthousiast door de telefoon toen hij opnam. Ik was even van mijn a propos, maar hij heeft natuurlijk gelijk. Ik heb al lang niet meer voor de Vriendenkring geschreven. Dus Frits, deze is speciaal voor jou!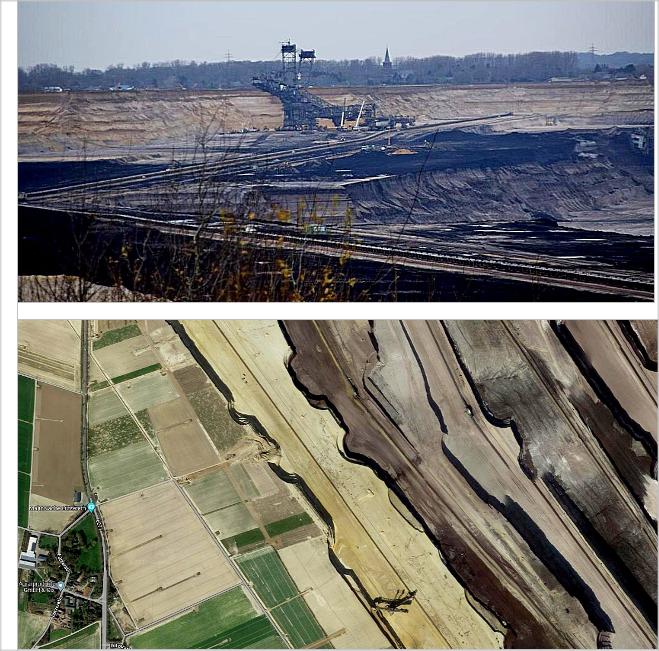 We zijn op weg naar Lützerath, een klein dorpje 40 km ten Westen van Keulen en Düsseldorf in Duitsland. Het is een zogenaamde 'spookstad', want het land in de omgeving wordt opgekocht door het mijnbedrijf RWE. Verder is het er verre van uitgestorven, want klimaat­activisten hebben er letterlijk een heel nieuw dorp gebouwd om het uitbreiden van de mijn te stoppen. Het ziet er niet uit zoals je bij een dorp zou verwachten. De mensen hebben boomhutten gebouwd, waar ze in kunnen klimmen als de politie komt om te ontruimen. En eigenlijk is alles zelfge­bouwd, op een paar grote boerderijschuren na. Er is een receptie, gaarkeuken, een grote centrale tent voor de verga­deringen, een relaxtent met een piano en een vuurplek en zelfs een fietsenwerkplaats. En dan natuurlijk de hutjes voor bezoekers die een slaapplekje zoeken, zoals wij.
Zowel de mijn als het klimaatdorp zijn overweldigend. De bruinkoolmijn is overweldigend groot, en overweldigend lelijk. Het is onmogelijk om in één blik de hele mijn te overzien. Enorme draken van machines staan in het midden rondjes te draaien en zand te scheppen. Er zijn al 40 dorpjes in de mijn verdwenen. (in heel Duitsland 300 dorpen). Er is alleen nog maar een gat. Het is alsof de aarde een wond heeft, de kloof in de aarde is als een snee in mijn huid. Bruinkool is een laagwaardige energiebron, het is relatief vervuilend en levert weinig energie op. Om die reden zijn in veel landen de bruin­koolmijnen al gesloten. Ik wist natuurlijk al lang dat onze elektriciteit nog steeds gedeeltelijk uit kolen komt, maar het grijpt me aan om het met eigen ogen te zien. Wanneer is het nou eens genoeg? Waarom nog verder uitbreiden terwijl we al weten dat we ermee moeten stoppen? Hoe voelt het als het dorp waar je geboren en opgegroeid bent is veranderd in een groot gat?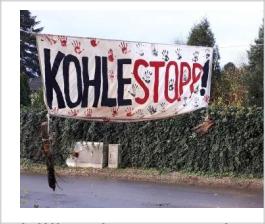 Ook het klimaatdorp is, op een heel andere manier, overweldigend. Als we aankomen regent het. Iedereen zit te kleumen in hun hutjes en tentjes, sommige mensen werken zwijgend in de keuken of hakken hout. Mensen groeten ons vriendelijk en laten ons verder met rust. We gaan naar de ontvangsttent om op te warmen met een kopje thee. Hoe laat stopt het met regenen?, vraag ik de gastenpersoon. 'Woensdag', zegt hij droogjes. Ik begin te beseffen hoe uitputtend het is om hier permanent te wonen, en in de bomen te leven. We lopen door het kamp op zoek naar een slaapplekje. We stappen een voor een de hutjes binnen, en waar niet al een slaapzak ligt, is dus plek. De boomhutten gaan we toch maar niet in. Die zijn meer dan 10 meter hoog, en kun je alleen maar bereiken door langs een touw omhoog te klimmen.
Frits' humeur is niet kapot te krijgen.'We gaan een vuurtje stoken in de tent!' stelt hij enthousiast voor. Het is eigenlijk meer een groot gespannen zeil dan een tent en na een half uur flink wapperen en prutsen krijgen we het vuur zowaar min of meer rookvrij. Ik voel dat ik na al dat gekleum eindelijk weer wat begin te ontspannen. De regen die op het tentzeil drupt verdampt onmiddellijk weer van de warmte. Het is een magisch gezicht.
Een voor een komen de bewoners van het kamp hun hutjes uit en scharen zich om ons vuurtje heen.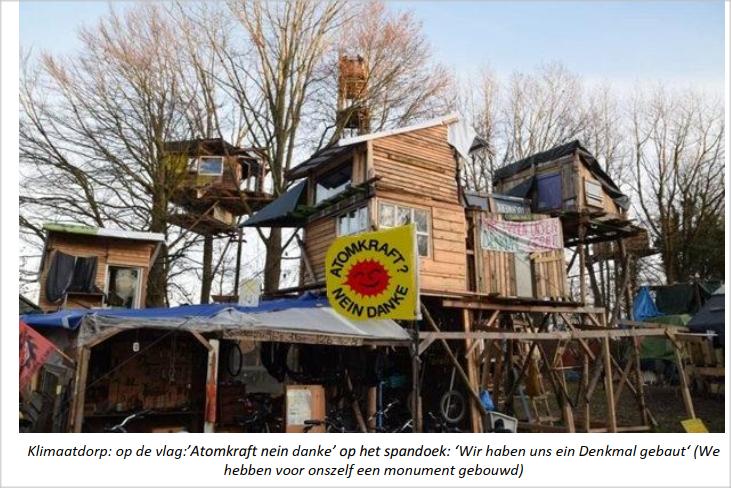 Er ontstaan interessante gesprekken, over geweld en geweldloosheid, veganisme, en de onderdrukking van de Koerden in Turkije. Het wordt me duidelijk dat er heel verschillende mensen in het kamp zijn. Sommigen wonen in de buurt en willen simpelweg niet dat hun dorp wordt opgegeten door de bruinkoolmijn. Anderen zijn vooral bezig met het klimaat en weer anderen gaat het meer om het onrechtvaardige machtsverschil tussen het mijnbedrijf RWE en de mensen die hier wonen. Samen proberen ze hier met hun aanwezigheid een statement te maken, en een alternatieve manier van leven voor te leven. Ik heb bewondering voor deze mensen, die nu de wintermaanden tegemoet gaan. Ik wens ze alle goeds!